Holiday-themed printables for kids are a great way to keep your little ones busy with something that feels fun and festive. We know parents are so busy at this time of year, so we've put together a collection of free holiday printables for kids and colouring pages all in one easy-to-access place so you don't have to waste time searching the internet for them! Print these off and keep them with you as an alternative to bringing out the tablet in restaurants or boring Holiday parties. 
Holiday Printable Activities for Kids 
These winter activity gift tickets have been such a hit! They are a really cute way to keep the kids busy, but they also give kids an opportunity to share a fun gift with friends and family. Printable Winter Activity Tickets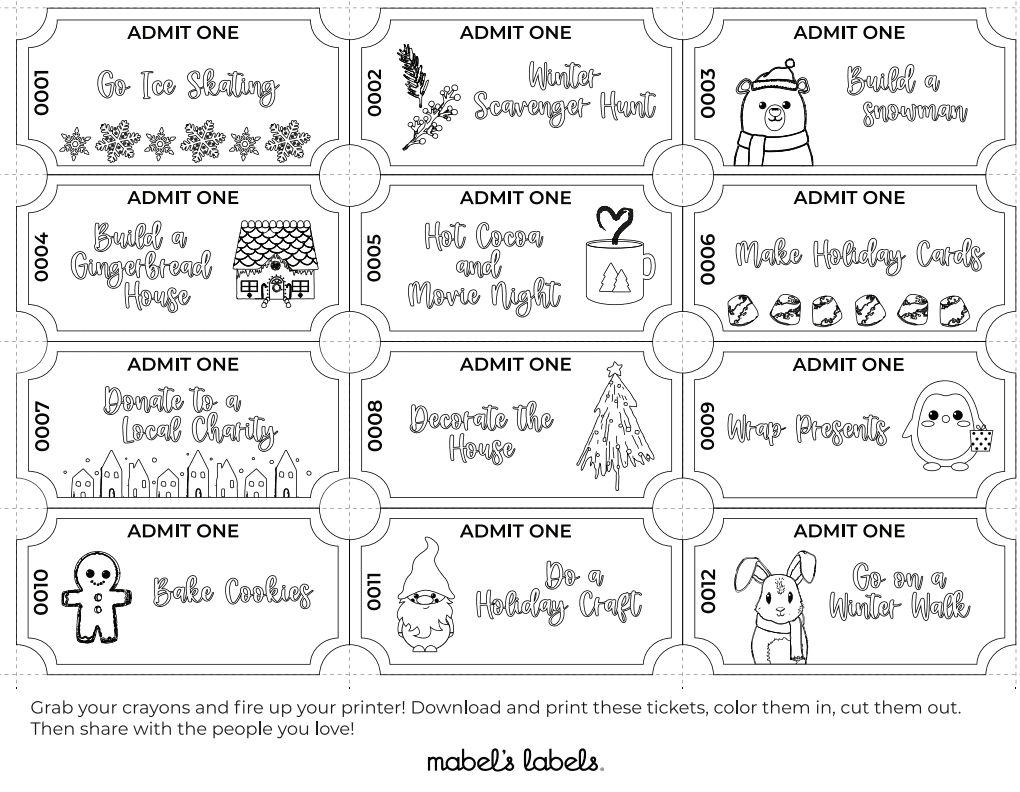 Use this Christmas postcard to send to relatives! Just print, have your kids colour everything and fill in the 'to' and 'from'. Cut out each rectangle and glue them onto either side of a piece of card stock. It's a great way to keep your kids busy AND get holiday mailing checked off your list. – Printable Christmas Postcard
This printable holiday-themed colouring sheet is a super quick and easy activity for children of any ages! – Holiday Colouring Sheet
Have your little one use their imagination and creativity to decorate and colour this blank Christmas tree. – Decorate the Christmas Tree Colouring Sheet
All kids love writing to Santa and it's extra important in 2020, since they won't be able to visit him and tell them their wish list in person! Using this printable letter is a great way to make the activity of writing a note feel a little more official and festive! – Printable Santa Letter Template
 
Printable games for kids
Have a little problem solver in your family? This fun holiday maze is sure to keep them busy. So, when you need a little free time for gift wrapping, cookie baking, or that well-deserved glass of wine! – Holiday Maze Printable 
Send your kids on a Christmas-themed scavenger hunt around the house to see how many of these holiday items they can find. – Holiday Scavenger Hunt Printable
New readers and writers will love sitting down with this word search that's full of festive wintery words. – Winter Wonderland Word Search





As parents we may be feeling the holiday crunch, if you're looking for simple holiday gifts, tags, ornaments or more make sure to check out our Holiday Collection!  And if you're feeling stressed, try these tips.