Since everything is more expensive these days, I'm aiming to go smaller (not bigger) this December. Rather than overspend and overdo it, I'm planning to scale things back and focus on the simple pleasures of the season.
If you're also cringing at the high totals on your gas and grocery receipts, here are some fun, low-cost activities to bring your family comfort and joy this holiday season.
See the light.
This year, my budget won't have room for tickets to an indoor light festival or drive-through attraction of elaborate LED shapes. Instead, I'll be taking evening walks to admire the front yard displays in my neighbourhood. Or, when I'm driving at night, I'll turn on some Christmas music and take an alternate route to admire the twinkling lights and illuminated inflatables.
Let it snow.
Fresh air is good for the body and mind, so head out into the winter wonderland for some outdoor play. Find a safe, snowy space to go sledding, frolic with the dog, or construct a snow structure. To counteract the chilly temperatures, here are a couple of family-tested tips:
Before: pre-warm outerwear (such as snow pants and mittens) in the dryer for a few minutes on a medium-low setting. That way, you'll carry the warmth with you as you step outside.
After: warm everyone's hands (and souls) with some hot chocolate! Turn on the fireplace, if you have one – and if you don't, go with the next best thing: the fireplace TV channel!
Boost your elf-esteem.
If your household has a resident Elf on the Shelf, this can be a creative and playful tradition. If you're feeling hesitant about the month-long Elf commitment, you may want to read this list of pros and cons first.
Stir up some family history.
Food is a meaningful part of holiday celebrations, especially the time-honoured recipes that are passed down through generations. I'm planning to try a classic shortbread recipe I found on a faded recipe card, with the instructions in my late grandmother's handwriting. I'm not a baking pro, but it only has four ingredients, so even I should be able to handle it!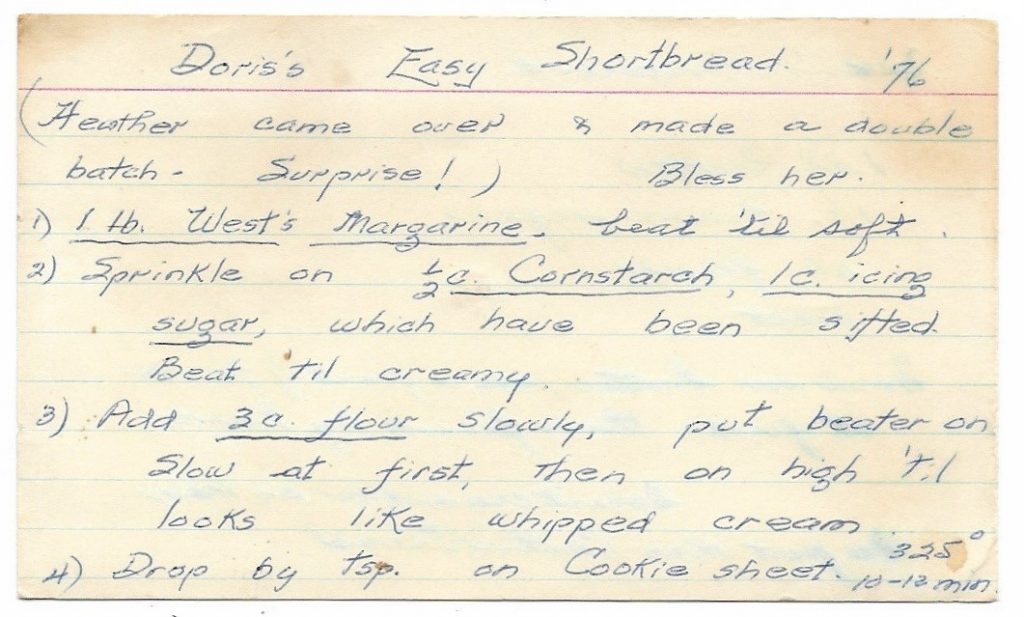 Press play.
After you've wiped up all the flour and icing sugar, get cozy for a family holiday movie. Choose a timeless favourite like A Charlie Brown Christmas or something more modern like 2018's The Grinch. If you have Disney+, my kids highly recommend the Lego Star Wars Holiday Special.
Invent your own reindeer games.
If your family welcomes a little friendly competition, pull out a board game or invent your own holiday-themed challenges, such as:
Name That (Christmas) Tune – play the first 1-2 seconds of a song, then hit the pause button and try to guess the name.
Holiday Bingo – use mini candies to mark your card, or have a small sweet treat for the winner.
Kahoot – choose a holiday related trivia quiz from their archive, or if the group is keen, create your own!
Spread peace and goodwill.
It doesn't cost anything to be thoughtful or give a few minutes of your time. Look for ways to be charitable and share a bit of holiday spirit with others. Not sure where to begin? Here are a few inspirational ideas.
Do-it-yourself countdown.
The store shelves are filled with fancy advent calendars containing chocolate, tea and Lego, but young kids will also have fun with a simple daily system like marking an X on a calendar or ripping a link on a paper chain.
Seek out free events.
Visit your local public library to borrow seasonal books and movies, or to participate in programs, crafts and activities. Also, check the website of your local arena or community centre for free public skating times (often sponsored by a local business).
Download a little magic.
Bring some festive cheer to your computer screen with a free personalized message from the North Pole. Or, for a small fee, you can purchase a digital advent calendar with daily kid-friendly animations and games set in a charming European village.
Doing something special and memorable doesn't have to be big or expensive. In fact, the holiday season can help us remember that there is joy and pleasure to be found in the little things. So, cuddle up with your warmest blanket, raise your mug of steaming hot cocoa, and drink a toast to the simple life.