Is a baby on the way? Congrats!! Your life is about to become much more beautiful (and exhausting). Sharing the news of your little bundle's arrival is probably on your mind; friends and family will be eagerly awaiting the exciting news. 
Parents are planning to make the perfect announcement well ahead of time. But it can be hard to know what to say, when, and how to say it. Especially within a few hours of birth – you're feeling overwhelmed and probably exhausted, so you're probably not feeling very creative. With social media, it has never been easier to announce your baby's arrival – but you still need to make it perfect! 
The etiquette around birth announcements on social media is a little wishy-washy, so we want to ensure you share the news flawlessly. Here is a list of birth announcement ideas, captions and etiquette.
We must keep in mind multi-generations who may not be on social media and respect their role (nobody wants grandma to find out after the neighbours down the street).  

Etiquette Tips for sharing the news

Always announce to immediate family first, with a phone call.

This is respectful to the members of your family who will play a key role in babies' life. If these members aren't at the birth, it's a good rule to make sure they receive a phone call – before ANY other announcements have been made. Some things in life require a call, not a text, and this is one of them.  

Dads and partners- never share the news online without talking with your partner and getting their approval.

NEVER share a picture of a new mom that she hasn't approved of!
Etiquette Tip if you're not the parents:
Never share photos without permission.   With sharing on social media becoming such second nature to everyone, it's hard to forget that not everyone shares online. Many parents are choosing to keep their kids off social media, which needs to be respected. Parents are being highly cautious about what they share, as well as the privacy settings of their accounts. So, while they may share a photo of their baby online- it isn't an invitation for you to do the same. Your connections are not their connections, and they don't know your privacy settings unless you get permission; never share photos online, even if the parents already have.   
What if things don't go as planned?
This can happen, and it's never planned and always catches parents off-guard. A NICU stay can occur if the baby arrives early or has some complications. It can be a tricky area to navigate when it comes to announcing. Nobody can tell you the best etiquette here, it's too personal, and each story is different. Some people post the birth announcement with a note stating they look forward to bringing the baby home. Other families announce the baby's arrival the day they "graduate" from the NICU. Whatever the situation- only you will know what is best for you and your family.  
What we can stress: If you are not the parents, no matter how excited you are, do not post or share the information. It's very poor taste. Instead, please speak with the parents, and follow their lead. 
Choosing a photo:
Another BIG consideration is the photo! It's the first thing people will see! We LOVE the idea of this Wooden Baby Name Announcement – it's the perfect and simplistic way to introduce your baby to the world. You can pre-order the plaque and include it into your diaper bag. It's a super simple way of creating a cute welcome photo!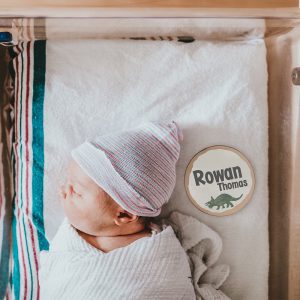 CAPTION SAMPLES:
Planning for your birth announcement is a good idea after birth- you're probably exhausted and not thinking straight. You don't want this announcement not to be as perfect as your new bundle of joy! Here are some cute and clever ways to announce your baby's name or gender.  
Traditional announcement:
Our little bundle of joy has arrived! Sarah & Tim Parker and big brother Taylor are ecstatic to welcome little Lincoln Ryan into the world!
Born on the 12th of April 2023
8 pounds, 4 ounces
20 inches   
Social Media Captions:
 With so much love and pride, we present our [daughter/son]

…And Baby Makes Three. Welcoming [name] 

Over the moon!

 

They've arrived! Welcome [baby name]!

Love at first sight is REAL! Meet baby [name].

[He/She] was totally worth the wait.

They were right. There is no feeling in the world like this. 

 

 Who will they grow up to be? We're not sure; we'll wait and see!

It is hard to believe our family is complete! Proudly welcoming [Name], a new baby for you all to meet.

Our family grew by ten little toes.

Everything in our life got a lot sweeter.  

Announcing the birth of our baby, [name].

We're so proud to introduce [name], born [date]

We are so happy to announce we are the proud parents of an adorable little girl/boy.

We've officially become a family. Meet baby [name].

A beauty was born into this world. She's the sweetest little girl.

A new adventure has arrived with the birth of our little girl.

Hip, hip, hooray. Our little girl was born today. 

 

 Welcome to the world, baby [name]!

Meet the new love in our lives, [name].

The wait is finally over! We're thrilled to welcome [name].

Hello, world! Introducing our bundle of joy [baby name].

On [birth date], we were blessed with the arrival of [name].

Dreams do come true! 

On [birth date], we were blessed with the arrival of baby [name].

It's official! [name] arrived on [birthdate].

Hello, my name is [name].

[Parents' names] welcome the newest addition to the family, [baby name].

[He's/She's/They're] are here at last! 

Beautiful and sweet. Our little girl, soon you will meet.  

 

 "Dreams do come true! Meet [name]"

The cutest little girl stole my heart today.

 "[Older child's name] would like to announce [his/he] new little [sister/brother]. Introducing [name]

The family tree gained another branch.

Two new feet are making sweet footprints on our hearts.

Filling our hearts with smiles and giggles.

 

 Can you believe the time has come? Welcome, our sweet little son.

We no longer must wait. They are here; it's time to celebrate!

Help us welcome our sweet new addition. Baby [name] has arrived.

We've finally entered parenthood! [baby name] came into the world today.

For all the things my hands have held, the best by far is you.