While keeping hydrated is essential for children all year round, it's especially important that your child drinks enough water during a hot summer day. Summer calls for lots of outdoor activities, including summer camps. Therefore, having a good water bottle tag along the kids' bag pack would ensure they always have water handy whenever needed.  
Having two toddlers of my own, I used to find my kitchen closet full of different kinds of bottles, struggling to find the perfect one for each of them individually. While many of the bottles were brutally rejected by them, we eventually found a good fit for their respective needs. To help other moms going through a similar struggle, here are 5 things to consider when choosing a water bottle for kids this summer.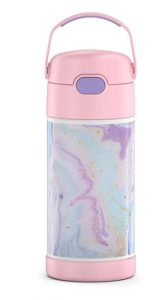 The Opening and Closing Style of the Lid

: 
Bottles come with different ways to open the lid, and you would not want your child to avoid drinking water because opening it is a struggle for them. My younger daughter has low muscle tone and struggles a little with her fine motor skills, so I noticed that bottles with a bigger, softer and clickable push button to open the lid of the bottle works better for her.  
Bottles that require her to pull down the lever result in her getting frustrated. Something like the Thermos Funtainer Bottle works better for her than something like the Yeti Rambler Jr., only for this reason.
The Thermos Funtainer is easy to use, as she can easily close it when she is done. It produces a snapping sound upon closing that signals her that it's securely closed to avoid leaking in her bag.   


The Material of the Bottle

: 
My elder daughter, who is six years old, prefers using the Yeti over Thermos because she likes her drinks very cold. The Yeti bottles have double-walled vacuum insulation that helps keep the water cold throughout the day.  
The sturdy material has been working for us well because my daughter tends to drop her bottle a lot and has even cracked some when dropped hard. The Yeti Rambler Jr., however, has withstood many great falls without so much as a scratch!

Straw/ Sport Top/Wide-Mouthed: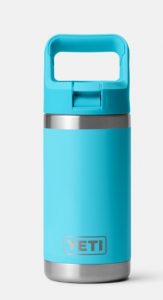 My daughters' pediatrician recommended encouraging her to use the straw to help her with her oral muscles. Therefore, she is much more comfortable now with drinking from straw bottles, over sport tops or wide-mouthed bottles. 
The water from the wide-mouthed bottle almost always spills on her while drinking, so a straw has always worked better for us. While choosing a bottle for your child, make sure that you check that they are comfortable with the kind of top it has. Some bottles require the child to pull on the straw very hard for the bottle to extract water, which can result in frustration, so that a wide-mouthed bottle might suit them better, like the CamelBak Chute Mag. However, these types of bottles only work well for children comfortable with water flow from the wide mouth.  
It is also important to check the material of the bottle's straw before purchasing it. Some kids mindlessly chew on the silicone or plastic straw and can completely bite it off. The hard spout, therefore, worked better for this. 
The Size and Weight of the Bottle

: 
As parents, we often think that the more water, the better! However, bigger bottles are often difficult to carry for children. They are difficult to attach to the side of their bag, resulting in them tripping over (I've seen it happen many times!) 
Finding a lightweight bottle with an optimum amount of water is a struggle. However, if you have a child who drinks a lot of water throughout the day, it is worth checking out the Takeya Actives Kids Insulated water bottle. The stainless-steel bottle comes in 12- and 14-ounce sizes, which is a little more than what most other water bottles hold and is also easy to manage by the children. 
How Easy It Is To Clean The Bottles:



A significant thing to look out for when purchasing a water bottle for your child is how easy it is to keep it clean. Bottles such as the Yeti Rambler Jr., Camelbak Eddy Kids Bottle and Thermos Funtainer Bottle are dishwasher safe, and their parts can easily be pulled apart to clean them. 
However, the Takeya Actives Kids water bottle is not dishwasher safe, so this might be a pain for some families.  
With so many options and various products available in the market, choosing the right bottle for your child can get overwhelming. 
However, keeping their personality and habits in mind while shopping will help reduce the risk of picking up the wrong one and avoid costly repurchases. It also helps to make your child practice drinking from the bottle at home so they are comfortable with it when they have to use it alone. Every child has different needs, and you will surely be able to find the one that checks off all their requirements.  
Don't forget to label all your water bottles! Mabel's Labels are all waterproof and dishwasher safe. They'll help avoid lost bottles and the repurchases you've worked so hard to avoid. Plus, they come in several shapes, sizes and designs to suit your kids! 
Are you prepping for summer camp season? Check out this list of everything you'll need!