Looking for the best bottles for breastfed babies? We've updated our post for 2022 to reflect new and improved products.

Breastfeeding can be so rewarding, but the reality is that it's also hard work and can be insanely exhausting. It seems almost impossible to get a break when you're consistently attached to a newborn who wants to sample the buffet all day (and all night).
So, thank goodness for the bottle. The genius invention that gives a mama the ability to leave her child in another loving person's arms while she takes a much needed break, gets a little sleep, or finally goes to that long-overdue appointment.
Well, in theory, yes. But there are a lot of breastfed babies who STRAIGHT UP REFUSE to take a bottle. Some cry and seal their lips, others just chew on the plastic nipple, unsure about what they're meant to do. Getting your baby to accept a bottle can be a huge stressor that takes a lot of trial and error, practice and patience.
So what are some things you can do to try and encourage success with the transition?
Lactation consultants suggest the following to help breastfed babies transition to bottle:
Have your partner give baby the bottle
Sometimes, that one degree of separation works! Some babies get flustered and confused when their food source is trying to get them to feed in another way. Leave the room and try having your partner or another caregiver bottle feed instead. A lot of babies are more likely to accept a bottle from someone other than their mom.
Get the timing right
A starving, fussy baby isn't going to have much patience for a new feeding source. Wait to introduce the bottle when your babe is hungry, but happy and calm. Many mamas have had success introducing a bottle during dream feeds, when the baby is drowsy.
Try different positions
If your baby is laying in the position they always breastfeed in, they might be less willing to take something new. Try feeding the baby in different positions or when they're a little more separated from you, like in a bouncy chair or stroller (with you holding the bottle, of course).
It's hard to know which bottle to buy when there are hundreds of different ones available. Don't worry, mama. We did some research so that you can hopefully find one that works for your little bundle of joy. Here are the highest-rated baby bottles that breastfeeding moms have had the most success with.
Remember, finding a bottle that works is a trial-and-error process, so don't buy bottles in bulk during your testing period!

Top Picks of Bottles for Breastfed Babies: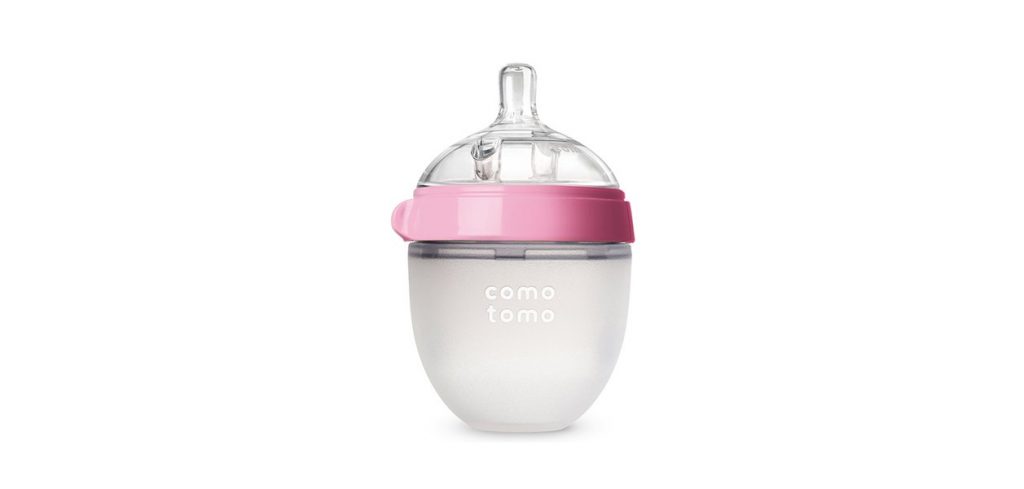 The Como Tomo's unique style of bottle is soft and pliable, which is meant to mimic a breast for babies with especially wandering and curious hands. The wide mound and naturally shaped nipple were designed to help babies switch from breast to bottle easily. With thousands of positive reviews on Amazon, this bottle is a top choice for moms who are struggling and desperate.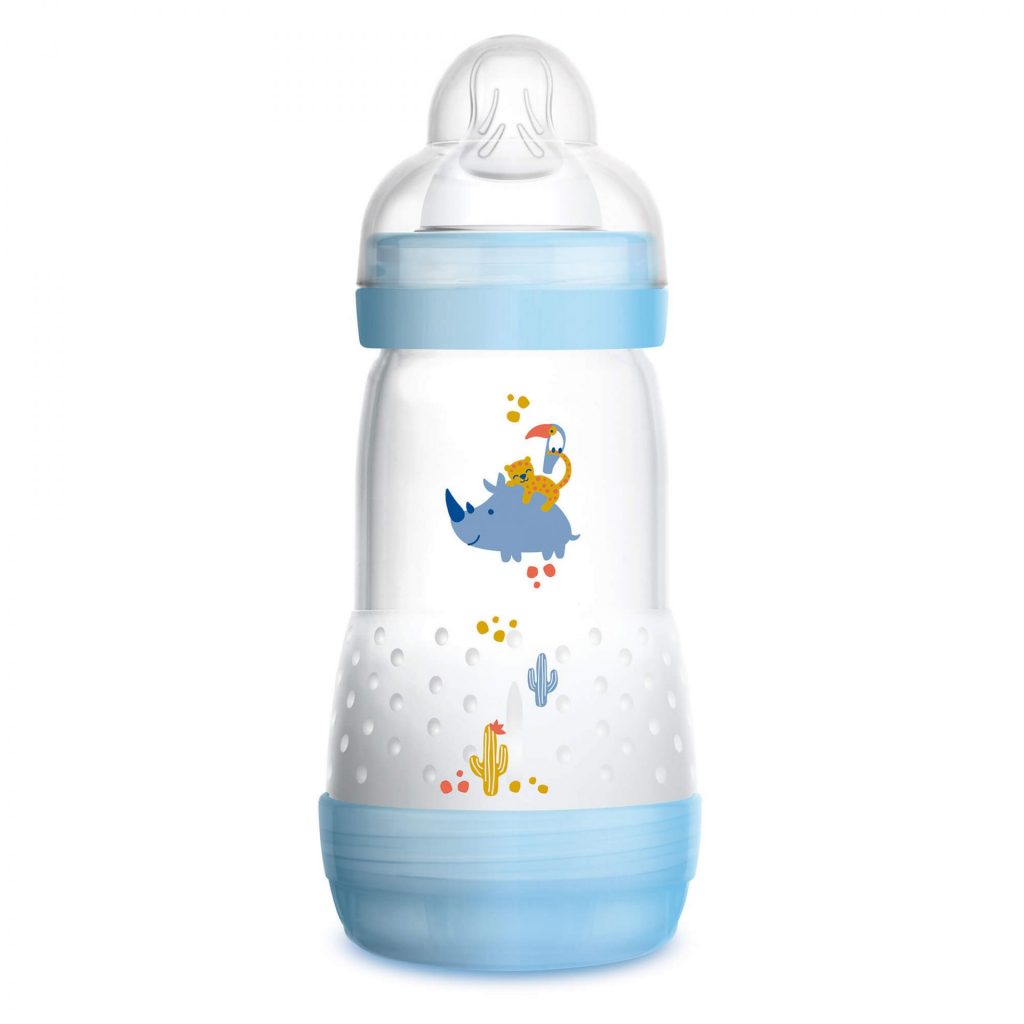 If your baby has rejected slimmer nipple options, a MAM anti colic bottle might be worth a try. The MAM Ultra Soft Silicone Nipple makes it easy to switch from breastfeeding and bottle-feeding, and back. So if your baby is struggling with the switch, this might bottle might be a top choice for you.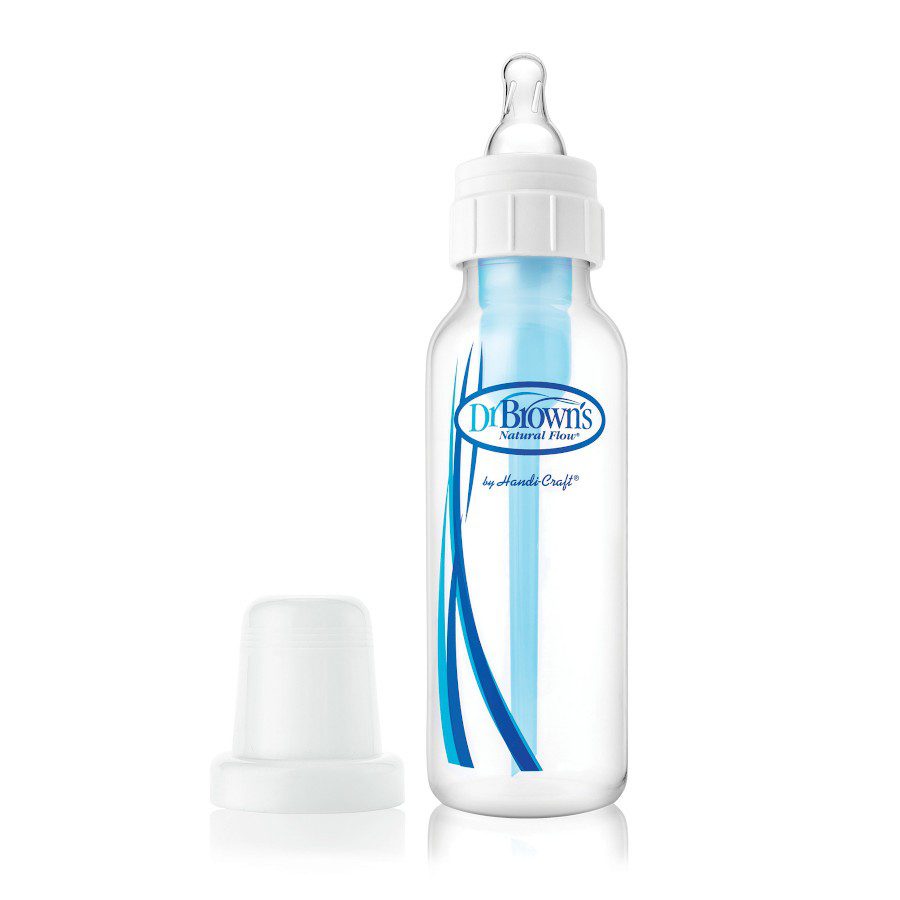 The Dr. Brown's Natural Flow Bottle is a great option for babies who struggle with colic, gas and reflux as it's designed with a full venting system to prevent any air from entering. The teat has a natural flow to prevent nipple confusion (or preference), but as your baby grows you can purchase faster flow teats to use with the same bottle. The venting system can be removed if your baby outgrows their feeding struggles and no longer requires it. This simplistic looking bottle does exactly what it says it will and has thousands of rave reviews.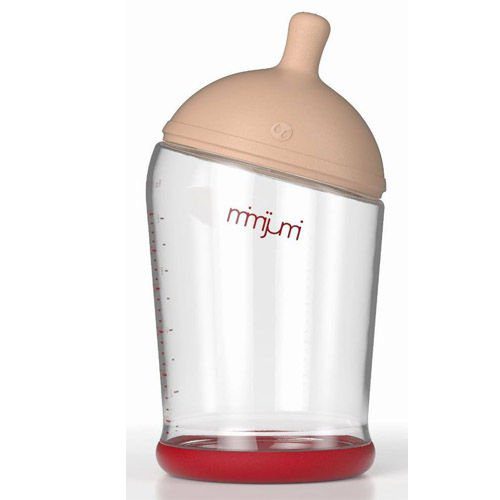 With it's natural colours and shape, the Mimijumi Bottle claims to provide the easiest transition from breast to bottle. The slanted top and skin-like texture of the nipple should feel more natural to your baby. Warning: this bottle is definitely not the cheapest option, but if it works and you can get away for the odd baby-free break, it's worth every single penny!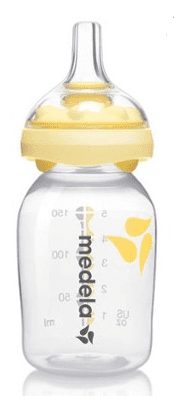 Backed by research, the Medela Calma bottle boasts a special nipple design that allows your baby to have complete control of the flow of milk. It also grows with your baby, so you won't have to change nipple sizes as your little one grows and eats more. Another bonus? The body of the bottle screws directly on to a Medela breast pump, meaning less milk transferring and cleaning if you're pumping and feeding.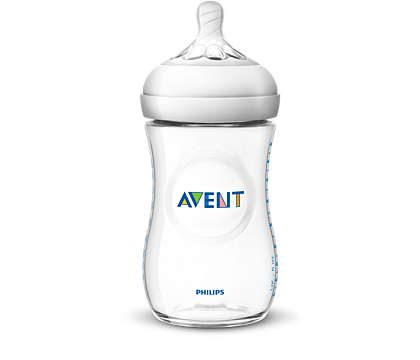 With an ultra-soft nipple and anti-colic design, the Philips Avent Natural is a great choice for mamas who want to switch easily between boob and bottle. The soft material and comfort petals on the nipple mimic the breast and allow for a natural latch and they're easy to find at any store or online retailer (Bonus: they're affordable). Reviews for these bottles often mention how easy they are to assemble and clean, which is a feature any busy parent will appreciate.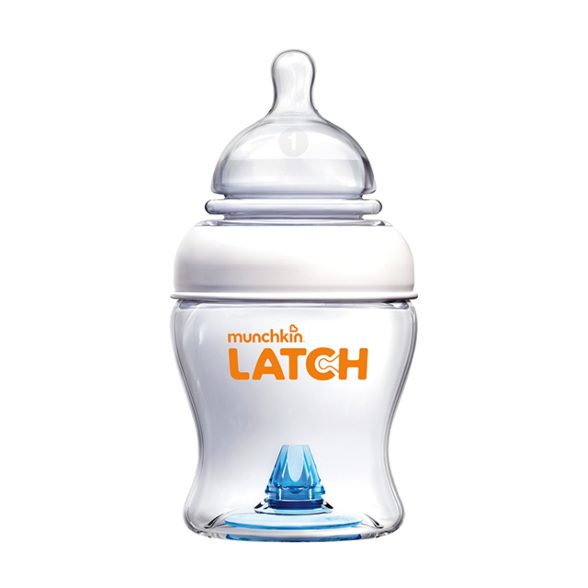 The Munchkin Latch is a great option for babies who struggle with latch. The lightweight accordion-style nipple allows baby to suck the nipple back into the soft palate, like they would from the breast. As the baby sucks, the teat the flow is increased, imitating the breast. The anti-colic valve at the bottom of the bottle makes feeding comfortable for baby, but can make cleaning the smaller parts trickier (Munchkin recommends getting a cleaning brush in addition to the bottle). This is a good option for providing consistency between breast and bottle.
Trial and error, and a guilt-free breather
Selecting the right baby bottle can be very overwhelming, and what works for one baby may not work for the next. It's a matter of trial-and-error, and as frustrating (and time consuming and expensive) as it can be, just know that you will eventually find something that works for you and baby! Remember, all moms deserve a break, so make sure to allow yourself a guilt-free breather.
Oh, and once you do find that holy grail bottle – don't forget to get some Personalized Labels or Baby Bottle Bands for it so that you don't lose it! Once your baby is all set with bottle feeding they'll be more prepared for daycare. Good luck mama!