Each year we want to show our deepest gratitude to the teachers who do such an outstanding job. However, it can really add up financially when we start counting each child's teachers, plus bus drivers, crossing guards and before & after care providers. We want to show our appreciation, but we also need to be aware of our budget.
Here are some ways that we can still offer these amazing people cute custom gifts, while still keeping our budgets in check.  Everybody loves a custom gift; it truly shows the thought and care that went into it. Gift cards are great but can be picked up in bulk last-minute without much thought, so to show you've put thought into your gifting, keep it as custom as possible and you'll make an impact!
Here are three ideas of how to take a simple custom gift, and make it extra-cute, all while keeping on budget!  (Under $20, under $10 and under $5 options)
This one is super cute, and budget friendly! When parents have so many people to buy for it really adds up- a great way of dealing with this is buy gifting with our Holiday Stocking Stuffer Label Packs. This is under $30, and you can have a personalized gift for each person you buy for (All the teachers, EA's, the crossing guards and support staff). By wrapping them beautifully your simple customized gift gets the festive wow-factor!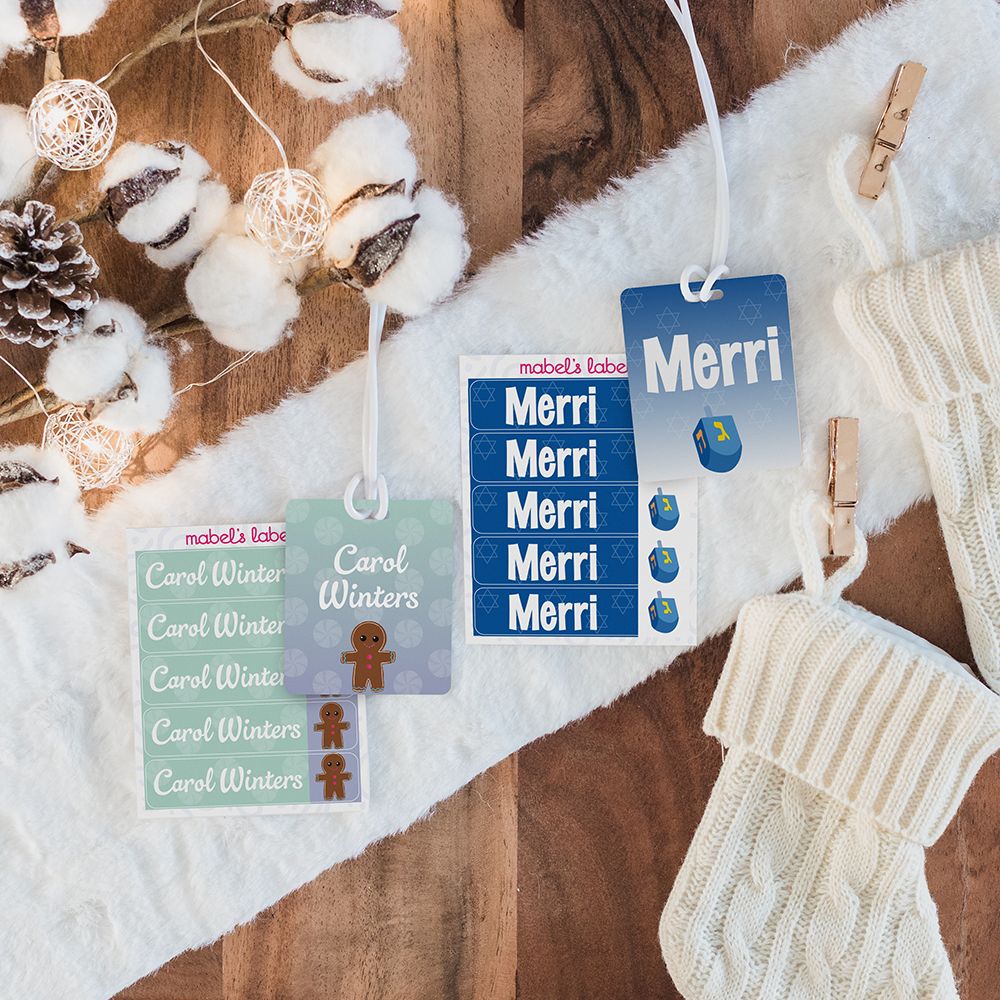 These Stocking Stuffer Label Packs include 6 sets! So, you can easily have many of the people checked off your list each with their own custom label pack!  (Teachers need to label lunch containers and water bottles too!)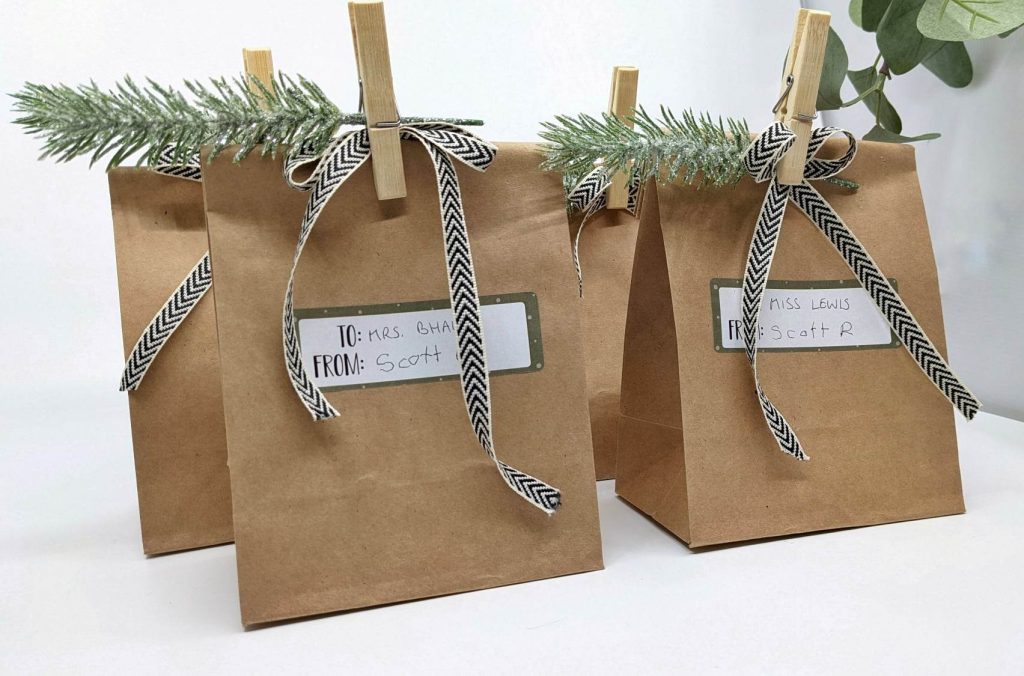 We love to wrap these up and include a personalized note from your kids. A cute and budget-friendly way to get these packaged up is by putting each set, and the note inside a brown lunch bag – add a bow and a gift tag and you have a cheap and cheerful custom gift!
Stocking Stuffer Label Pack (6 sets) $30.00
Ribbon (dollar store) $1.25
Clothes Pegs $1.50
Gift Tags (36 tags) $9.99
Price per gift: $7.12
Cute custom ornaments are perfect for teachers to add to their tree as a keepsake! You can choose from wooden or slate options, at $15.99 when you add some cute custom gift wrapping (all budget friendly, you know this simple gift is one that the teachers will cherish. We always recommend having your kids write a personal letter that you can add in as well to make it extra-heartfelt (and free)!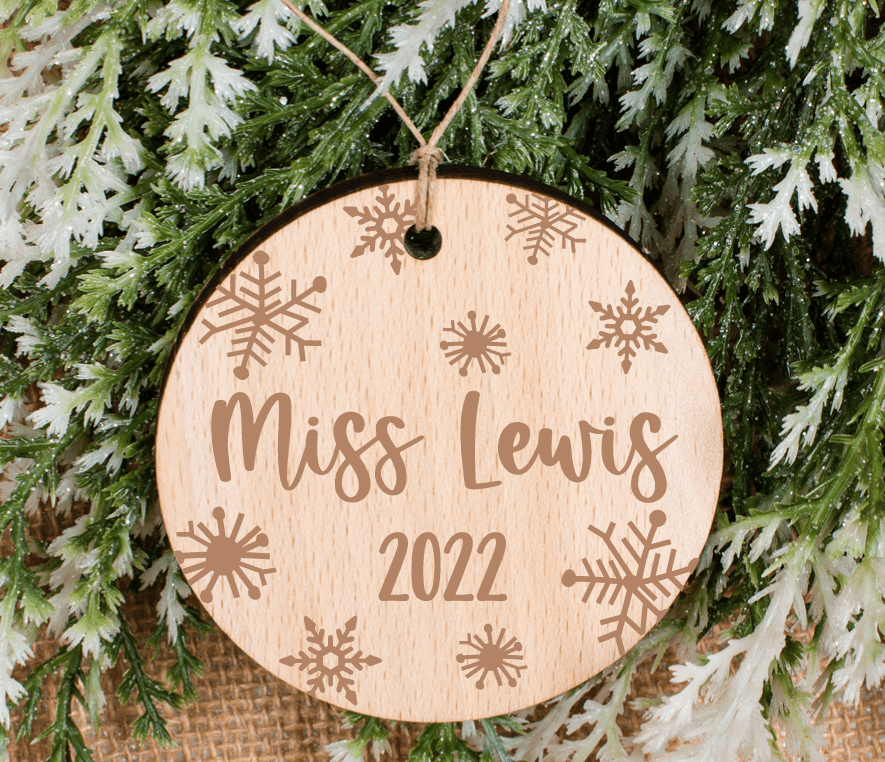 Slide these into a cellophane bag along with your child's personalized letter. Add a Mabel's Labels gift tag, some simple ribbon and you have a very cute custom gift that your teachers won't forget!
Ornament $15.99
Cellophane Bags $1.75 (dollar store)
Ribbon $1.25
Price per gift: $18.99
Holiday baking, made with love
We all bake each year, yet so few of us end up using our baked goods for gifts! Who doesn't love a gingerbread man at Christmas! This simplest, and inexpensive option is still very cute. Head to your local grocery store and grab some gingerbread men (the cost of buying them premade is cheaper than buying the multiple ingredients needed- and we all know food costs are high these days, plus you'll rarely use up all the ingredients). Slide them into a cellophane bag, add a gift tag, personalized letter and you have an adorable little gift for each teacher.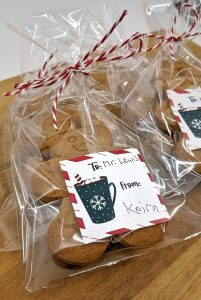 Gingerbread Kit $7.48 (includes 8 cookies)
Cellophane Bags $1.75
Ribbon $1.25
Gift Tags (36 tags included) $9.99
Price per gift: $2.50
The most important part of all of this – thought. It's always the thought that counts. So, whether you spend 5, 10 or $20 as long as your gift showing appreciation, that's really all that matter this Holiday season.
For more thoughts on teacher gifts, give this a read.