During December, I often find myself craving Christmas flavours. Gingerbread, shortbread, sugar cookies and pumpkin pie – you name it! When it is cold and snowy outside, there is nothing better than sitting down to a Netflix series with a slice of Christmas on my plate! Since the beginning of the pandemic, however, I have been consciously trying to curb my comfort eating. Easier said than done during the holidays, right? In an effort to eat cleaner, I have also been trying to reduce the fat and sugar content in many of my traditional Christmas baking recipes, while attempting to not compromise taste. It is actually easier than you think!
My Healthy Gingerbread Squares are naturally sweetened by stevia and molasses and contain no granulated sugar. I have also reduced the fat content by ditching the butter and opting for coconut oil instead. Prefer butter? No problem – you can use either option as both work well!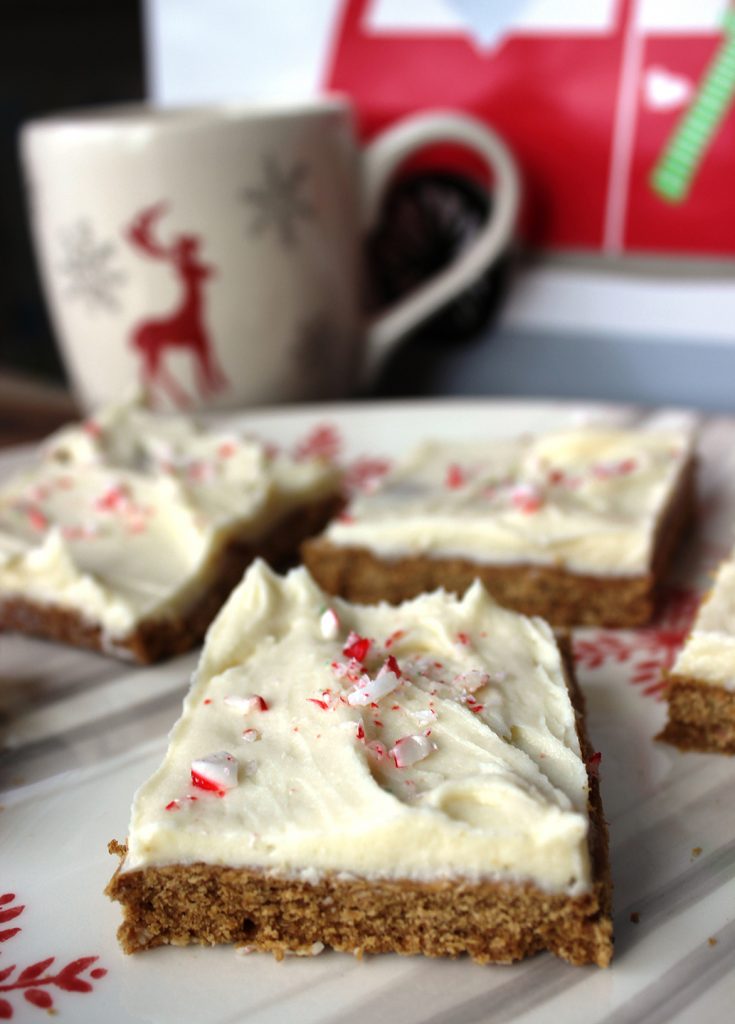 What you will need:
Gingerbread spices – To create the iconic gingerbread flavour, you will need ground ginger, nutmeg, cinnamon and all spice
All purpose flour or gluten free flour – Both of these types of flour work with this recipe, just don't substitute for whole wheat flour as it weighs down the squares and they don't turn out soft and chewy (trust me, I tried!). I do add 6 tbsp of whole wheat flour for added fibre, plus it gives them a nice golden brown colour
Molasses – Along with ginger, it is the molasses that creates the classic gingerbread taste. The ginger adds that warm, cozy spice flavour, while the molasses adds a rich, earthy undertone. I do not recommend substituting anything for molasses because your cookies won't taste like true gingerbread without it! Molasses is also inexpensive, versatile and has a long shelf-life (don't keep it refrigerated). Molasses can also be used in many other Christmas recipes, like these healthy oatmeal cups by The Girl on Bloor
Coconut oil – Unlike many traditional recipes that require a full stick or two of butter, my gingerbread square recipe only requires 2 tablespoons of the fat or your choice. I opted for coconut oil for this recipe, but you can still use unsalted butter if you prefer. Just make sure it is melted and at room temperature before adding it with the other ingredients. I also recently discovered liquid coconut oil at my local grocery store. I used to always buy the solid coconut oil and melt it down, but having the healthy fat already in liquid form in my pantry has proven super useful! Liquid or melted fat creates a much smoother and chewier texture and an overall better square experience!
Stevia – Stevia is a plant-based, no-calorie sweetener that contains nothing refined or artificial (it's clean eating friendly!). But because liquid stevia is so concentrated, you only need 1 teaspoon, which adds the sweetness equivalent of nearly a ½ cup of sugar!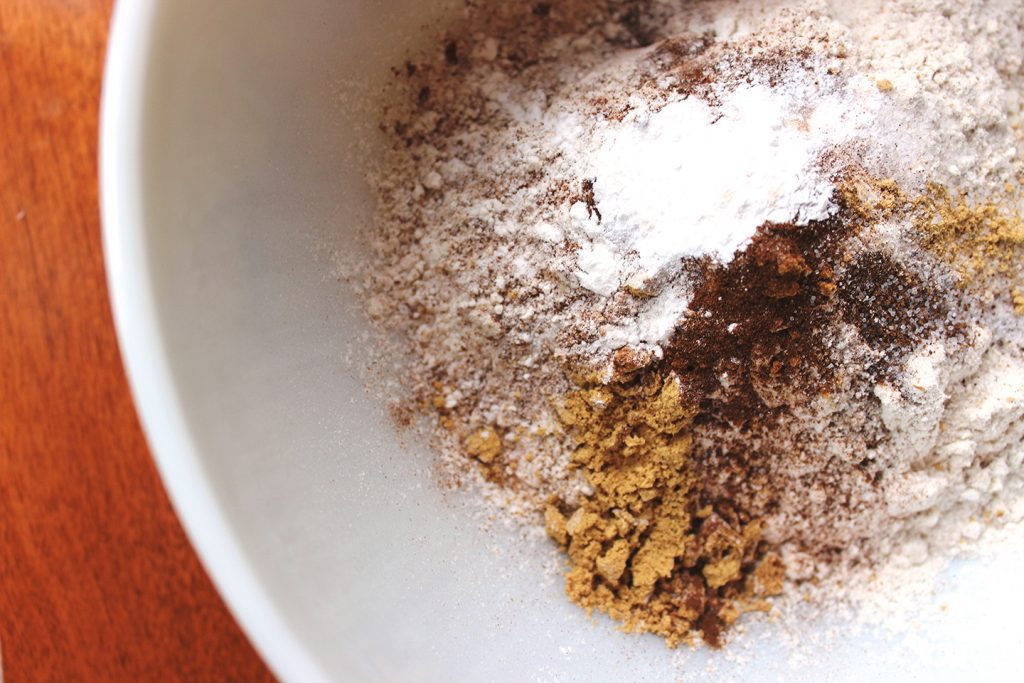 My Healthy Gingerbread Squares with Festive Cream Cheese Frosting are perfect for the holidays—or anytime you're craving a wintertime treat! They have that classic gingerbread flavour complimented by the sweet cream cheese frosting, making them the perfect pairing with a coffee or hot chocolate.
And we can't have squares without the frosting! For the cream cheese frosting, I went with full fat cream cheese, but you can lower your calories by using lighter options too. Instead of traditional icing/confectioners sugar, I tried a sugar alternative called Swerve which contains erythritol, a naturally occurring sweetener made from corn using enzymes and fermentation. It has zero calories and tastes, bakes and measures like regular sugar! Content with your regular icing sugar? That works just fine for the frosting too.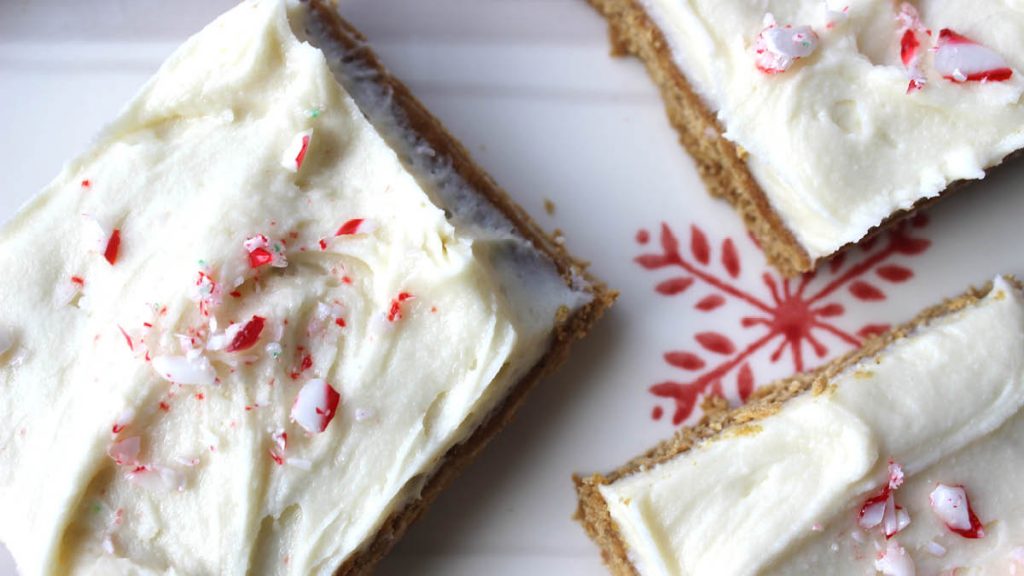 The nice thing about these gingerbread squares is their texture. They are soft and chewy, unlike traditional gingerbread cookies which can be hard and stale. Even better, these healthy gingerbread squares contain minimal sugar, fat and only about 100 calories each, including frosting!
Once your healthy gingerbread squares are at room temperature and your festive cream cheese frosting is thick and creamy, just spread it on top, slice the pan into squares and voila! I topped mine with crushed up candy canes for that extra Christmas crunch! The squares will keep for at least three days when stored in an airtight container in the fridge. Try these healthier squares today and fill your home with the smell of Christmas! 🎄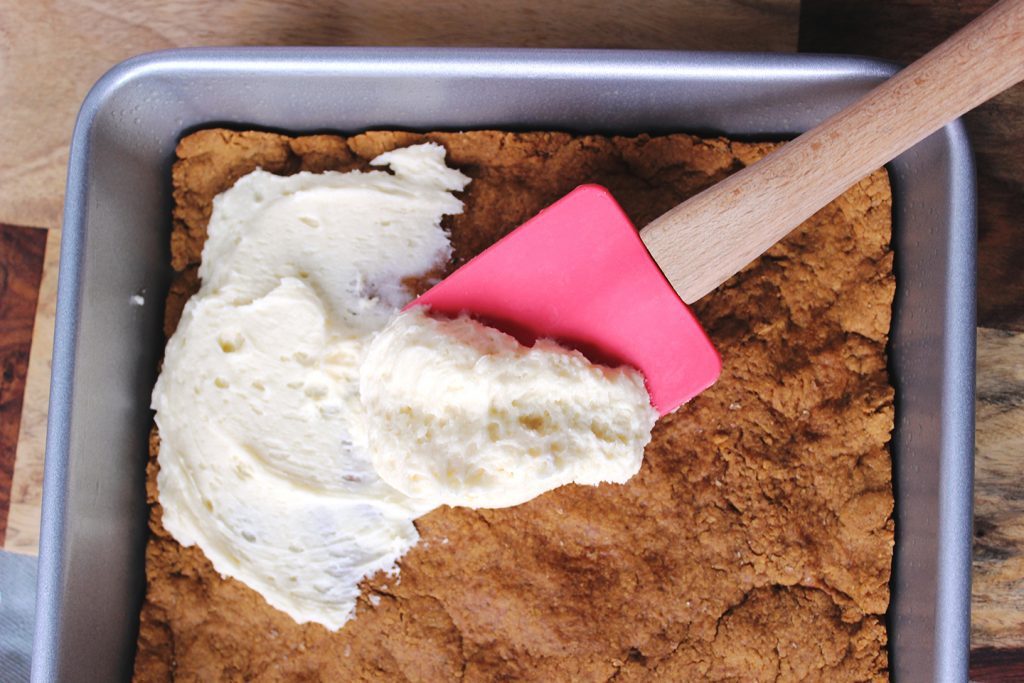 Healthy Gingerbread Squares with Festive Cream Cheese Frosting Recipe
For the Squares:
INGREDIENTS:
1 cup all purpose flour + 6 tbsp (165g) whole wheat flour (gluten free flour works too)
1 ½ tsp ground ginger
¼ tsp ground cinnamon
⅛ tsp ground nutmeg
⅛ tsp ground nutmeg
¼ tsp baking powder
¼ tsp salt
2 tbsp coconut oil, melted and cooled slightly (unsalted butter also works)
1 large egg, room temperature
1 ½ tsp vanilla extract
1 tsp liquid stevia
¼ cup (60mL) molasses
DIRECTIONS:
Preheat the oven to 325° F and coat an 8 inch square pan with non-stick cooking spray
Grab 2 bowls – one large and one medium sized
In the medium bowl, mix together your dry ingredients including the flour, ginger, cinnamon, nutmeg, cloves and baking powder. Use a whisk to ensure they are well blended
In the large bowl, add your wet ingredients including coconut oil or butter, egg, vanilla extract and liquid stevia. Whisk well before adding the molasses and stir the thick liquid until well combined
Next, add your dry ingredients to your dry ingredients in the large bowl. Incorporate the flour mixture a bit at a time, stirring just until incorporated and a soft dough forms. Feel free to use your hands to mix the dough a bit, but not too much
Using a spatula or your fingers, gently press the gingerbread dough into the prepared pan in a thin, even layer
Bake at 325° F for 11-12 minutes or until the center feels firm to the touch. Cool completely to room temperature in the pan before adding your frosting
While the squares are baking, prepare your frosting (see ingredients and directions below)
For the Festive Cream Cheese Frosting:
INGREDIENTS:
¼ cup salted butter, softened
½ block or about 4 ounces of plain cream cheese, softened
1 to 1 ½ cups icing/confectioners sugar, depending on your preferred level of sweetness (I used Swerve sugar replacement for my frosting)
1 tsp vanilla extract
DIRECTIONS:
Beat softened butter and cream cheese in a large bowl with electric mixer until smooth and well blended
Incorporate powdered sugar, a little bit at a time, and vanilla. Beat until creamy and fully blended
Top the squares while they are in the pan, but they must be fully cooled! Make frosting as thin or thick as you like. Keep any extra frosting in the fridge for up to 3 days and use to top muffins, cinnamon buns and more!