It's the time of year when moms and dads start preparing for the onslaught of sugar our little trick-or-treaters are about to receive. It seems the lead-up everywhere we go there are buckets of candy for kids to grab from. Of course, we don't want to deprive our kids of the sweet treats, but too much sugar and they don't feel satiated. When they don't feel satiated, they reach for more candy. Plus, they're not getting any added nutrients. There are ways in which you can turn that Halloween candy into a healthy treat.
So instead of not allowing the candy, the best way to combat this is to incorporate it into a healthy treat. It's also a good way to use up any uneaten candy you didn't give away on Halloween night. Here are four simple recipes to turn Halloween candy into a healthy treat
Materials for chocolate dipper and gummy skewers:
Festive Cookie Cutter (optional)

Parchment paper (optional)

1 Small microwave safe bowl
Gummy Skewers:



1 packet Gummy Candy
1-2 Fruits (e.g. bananas, strawberries, oranges, grapes)
1-2 Vegetables (eg. cucumbers, peppers, cherry tomatoes)
Cheese cubes or Cheese String
Chop fruits, vegetables, and cheese into bite-sized pieces or cut into shapes using your festive cookie cutters. Carefully, slide the gummy candy, fruit, vegetables, and cheese on the skewers, alternating between two pieces of healthy fruit and a treat candy.
Chocolate Fruit Dippers: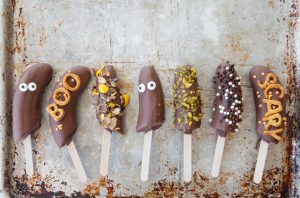 2 packs mini-Chocolate bars (to melt)
1Pcket Candy to sprinkle 1-2 (nerds, skittles)
Fruits (eg. bananas, strawberries, apples, grapes)
Optional: 1/2 cup Greek Yogurt
2tbsp Nut/seed Butter
Chop candy and chocolates into small pieces and place in separate bowls, little kids will need assistance.
Place parchment paper on a plate. Wash and cut fruit to cubes or slices.
Place each piece on its own skewer.
Put the chocolate bowl in the microwave, and heat for 30 seconds. Stir. Then continue to heat for 15 seconds and stir until the chocolate is melted. (If using the stovetop, place chocolate in pot and heat on low for 2-3 minutes, stirring constantly)
Slowly dip the fruit in the chocolate and place on the plate.
Sprinkle your chocolate dipped fruit with candy and extra chocolate pieces.
Put in the fridge for 20-30 minutes. Enjoy!
Yogurt bark



(5.3oz) cartons of plain Greek yogurt
1 Tbsp. honey
2 tsp coconut oil (stops the yogurt from crystalizing)
1/4 c. blueberries
1 small pack of smarties, gummies or other candy
1 mango
Line an 8×8 pan with parchment or wax paper.
Mix honey into your yogurt. Spread across the pan of parchment paper
Top with the sliced kiwi, blueberries, and candy pieces
Lastly, place in freezer until set. Cut into pieces and enjoy!
Trail Mix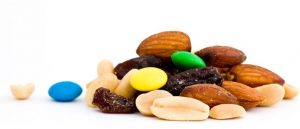 Add smarties, m&m's into a trail mix (almonds, peanuts, cashews, pretzels) Don't bother with raisins, dried fruit is high in sugar, and if we're going to add sugar- we'll keep the candy!
If you're looking for some healthy meals to get back on track after all the candy- give these soup recipes a try!